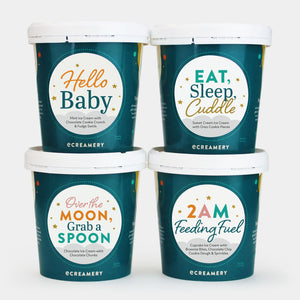 Save $20 + 1 Free Pint
This collection includes four pints of our dense & delicious, gourmet ice cream, each titled with a sweet message to celebrate the arrival of their new bundle of joy!  Give new parents a much needed break with some ice cream!  New moms and dads deserve a sweet treat during this time and comforting ice cream in mouthwatering flavors is sure to help out!
Includes:
Mint Cookie Crunch: Mint Ice Cream with Chocolate Cookie Crunch & Fudge Swirls
Cookies & Cream: Sweet Cream Ice Cream with Oreo Cookie Pieces
Chocolate Chunk: Chocolate Ice Cream with Chocolate Chunks
Cupcake Cookie Dough: Cupcake Ice Cream with Chocolate Chip Cookie Dough, Brownie Bites & Rainbow Sprinkles
With this exclusive offer, no additional discount codes can be applied.