Omaha Dundee Parlor
Location
Visit Us At
5001 Underwood Ave., Omaha, NE
(6 blocks north of Dodge Street in the heart of Dundee)
Sun - Thur 11am - 9pm
Fri - Sat 11am - 10pm
Local 402.934.3888
Flavors for September 21, 2023
Updated Every Day at Noon
Ice Cream
Dundee Delicacy- September's Scoops of Support. Caramel ice Cream with Cookie Dough & Fudge Swirls. For the entire month $1 from every Pint sold will be donated to Dundee Elementary PTO.
Omaha's #1 Vanilla
Chocolate
Caramel Apple Crisp
Butter Brickle
Mint Cookie Crunch
Peanut Butter Cup
Butter Pecan
Gelato
Snickers
Chocolate Covered Waffle Cone
Chocolate Mint
Sorbet
Pink Guava
Raspberry
Vegan
PB&J
Cookies
Chocolate Chip
Double Chocolate Chip
Caramel Chocolate Chip
Snickerdoodle
Monster
$2 Tuesdays
Be sure to add it to your calendar as a recurring, magical, yum-filled event. $2 single scoops every Tuesday. And if you don't live in Omaha, this is a good day to visit.
Want a Personalized Pint?
Choose a flavor available in today's selection and make your very own pint by adding a custom name, or visit the Personalized Pick Your Pints page for a wide selection of flavors. Call ahead, and we'll have it ready for you to give as a gift or take home to your freezer!
Want it Now?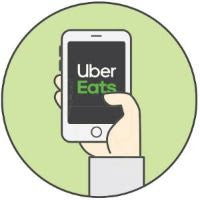 Your days of chasing down your friendly neighborhood ice cream truck are finally over. Let eCreamery come to you! Find us on your favorite delivery app for easy delivery in minutes. Isn't that sweet?! Your delicious delivery could be just a few clicks away.