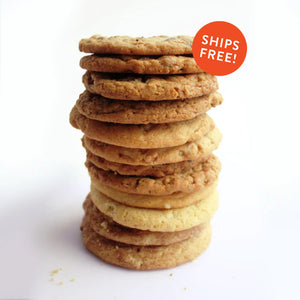 Ships Free
We'll pick our favorites and include them in this delicious one dozen cookie collection. 
You will receive a variety of some of the following delicious flavors:
Caramel Chocolate Chip

Double Chocolate Chip
Chocolate Chip Pecan
Butterscotch Oatmeal
Chocolate Chip
Snickerdoodle

Monster

Sugar
4 pints ice cream + cookies
Difficulty with online process, ice cream - freezer burn, poor quality cookies. Disappointed!