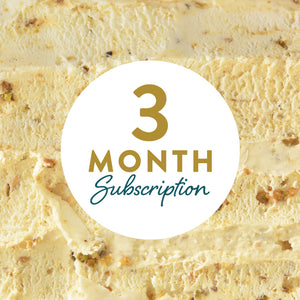 Ships Free
How It Works:
You make one easy payment and we'll automatically send a sweet delivery of ice cream once a month for 3 months!

After your purchase is made, we'll send your gift recipient their first four delicious pints of our mouth-watering ice cream and an informational flyer explaining just how the club works.
Each month following, your lucky gift recipient will receive an assortment of four different custom-churned and hand packed flavors of premium ice cream.
The four flavors are different every month ranging from traditional classics and best-sellers to new and exciting seasonal flavors created by our own ice cream artists. Each ice cream pint is guaranteed to be rich, creamy and absolutely delicious.
FREE STANDARD SHIPPING is included each month!
The shipments will automatically process on a monthly basis for your chosen length of time, based upon your original purchase date. You can Manage Your Subscription online via your account, which allows you to view your upcoming shipments and cancel at any time. You will be alerted monthly as your shipping date approaches and also will receive tracking every month, so you know exactly when to expect the treats.
This is a prepaid subscription only. At the conclusion of your subscription, your subscription will not auto-renew and there will be no additional charges.
Great
Very good - for my next order in December I would like to select my flavors.
Fun Frozen Treat
My husband purchased the 3-month subscription for me as a Christmas in July gift! We receive 4 pints of ice cream in assorted flavors each month for 3 months...it is so fun to see what flavors we get--they have all been fabulous! The packaging is great and our ice cream has always arrived frozen. We love everything about ecreamery!!
First months headline: Impressed!
4 pints of season friendly flavors. I gave as a gift and was fortunate enough to of been offered a bowl of the coffee toffee, so darn good!